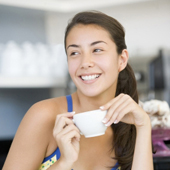 "Some books leave us free and some books make us free" Ralph Waldo Emerson
As part of every personal development journey - books are a must!
Someone once said that 'the only difference between who you are today and who you'll be in 5 years time are the books you'll read and the people you'll meet' (or words to that effect - feel free to email through the correct version and author!).
This month, I'd like to share with you two of my favourite books relating to building trust across all areas of your life.
The Simple Truth about Trust
Vanessa Hall's unique model that she shares in this book has been admired for its simplicity and its power in helping people around the world understand how trust is built and how it breaks down. It gets to the core of trust and how it works in all our business and personal interactions. Her conversational style makes this book an easy and enjoyable read and is a must for anyone wanting to improve their relationships.
(download your free copy of this e-book at www.entente.com.au)
The Truth about Trust in Business
With simplicity and clarity, Vanessa outlines her unique and clever model which helps readers to understand what trust is, how it is formed and how it breaks down. It includes practical guides on how to cultivate a trustworthy organisation, coupled with insights from leaders in their fields of expertise, and is written in an easy, conversational style making it an enjoyable read.
(purchase a copy of this hard copy book at www.entente.com.au)

Achieving Authentic Success by Dr Ron Jensen (adapted for Australia by Wayne Deeth) (published by Open Book Print, Adelaide)
Dr Ron Jensen who many may have been familiar with a series of personal development tapes that circulated in Australia during the 1980s, moved on to create Future Achievement International and one of the best Success Systems I've come across. His book, Achieving Authentic Success outlines 10 Timeless Life Principles that will maximise your real potential.
As a Leadership enthusiast myself, I thoroughly enjoyed reading this guide to personal leadership mastery. His simple ABC (attitudes, beliefs, commitments) outline broken down further to the inidividual principles that support his definition of success "Success is the progressive realisation and internalisation of all you were meant to be and do". You can purchase this book for $33 online at:
http://www.futureachievementaustralia.com.au/
Enjoy!
You Can Heal Your Life by Louse L. Hay (published by Hay House Inc.)
I like the opening dedication in this book and I quote:
'May this offering help you find the place within where you know your own self-worth, the part of you that is pure love and self-acceptance'.
Louise writes:
'We are each responsible for our own experiences.
Every thought we think is creating our future.
The point of power is always in the present moment.
Everyone suffers from self-hatred and guilt.
The bottom line for everyone is, "I'm not good enough."
It's only a thought, and a thought can be changed.
We create every so-called illness in our body.
Resentment, criticism, and guilt are the most damaging patterns.
Releasing resentment will dissolve even cancer.
We must release the past and forgive everyone.
We must be willing to begin to learn to love ourselves.
Self-approval and self-acceptance in the now are the keys to positive changes.
When we really love ourselves, everything in our life works.'
Louise L. Hay
Louise has written the first part of this book in the same way she would conduct a counselling session or workshop with someone. Each chapter commences with an affirmation. Each chapter concludes with a treatment. It contains 'lessons' and exercises to help you gradually expand your thinking in order to be ready for the next chapter's lesson.
The second part of her book is a reprint of an earlier book "Heal Your Body" and gives a diagnosis of physical symptoms that manifest in the body with the emotional triggers that create this 'dis-ease'. This section also gives the appropriate affirmation to begin healing the mind and the body to be free from disease. This book is often in my handbag.
In Louise's personal story, you will read how she cured herself from cancer using these principles and many testimonials from others who have had success following her suggested practices. An inspirational and useful read.
And an old favourite.
The Five Love Languages by Gary Chapman
People express and receive love in different ways. Dr. Gary Chapman identifies these as the five languages of love:
Quality Time
Words of Affirmation
Gifts
Acts of Service
Physical Touch
Over time we develop a perception that a demonstration of love might involve one of the languages described by Gary and if our dominant love language is Acts of Service, we?ll feel that our partner will know instinctively that we love them simply because we put the garbage out. However, our partner's dominant language might be Words of Affirmation, so unless we actually say the words "I love you" they just don't think that we do.
Each of us has a dominant language and we tend to give what we need rather than what our partner wants.
In the new edition of The Five Love Languages, you will find a couple's guide to help you work as a team. This is a book packed with practical solutions to help couples show and receive love. Did I say 'receive' love? What does that mean? It means that if we can recognize our partner's love language, we can recognize when they are showing us love in their own language and will be better able to 'accept and receive' that love as a sign of their commitment to us. Awareness is a marvelous thing!